Wins award for the "best leg toner."

Cardio-pumping kickbox moves segue into stationary squats and lunges, then back into cardio mode.- FITNESS MAGAZINE

Best kickboxing. This workout is easy to master. Janis and Guillermo are both high-energy and inspiring. - BETTER HOMES & GARDENS
This advanced Hardcore Kickbox Circuit will take you through a calorie-burning cardio workout with unique upper and lower body sculpting combinations. Let the martial attitude take over and develop an effective understanding of body movement and muscle tone. Grab your handgrips and dumbbells for this killer kickbox circuit.Get Fit! Get Strong! Burn Calories!
LEVEL: Inter/Advan
EQUIPMENT: 1/2lb light weights for punching (or gloves), 3-15lbs dumbbells, & mat

TIME: 53 mins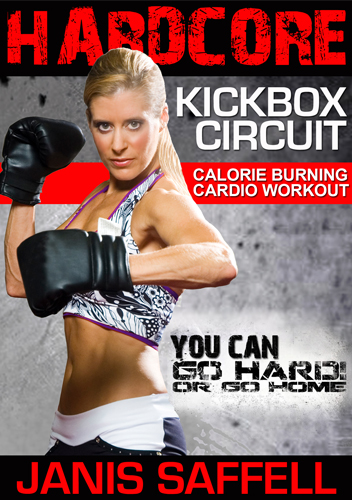 Customer Reviews

An awesome workout!
Janis, has great kickboxing videos and this is one of them! The workout is great, music has a great beat which make you enjoy each segment and the toning is short but you can feel it the next day! I highly recommend it for all levels and you will not be disappointed! I am an intermediate to advance level and I like this one better than the other kickboxing videos. I would say try all her videos, and especially the Brand New Butt and More video and StrikeZone. These 3 videos are my favorites! You WILL see results! - posted by Vivian


EXCELLENT WORKOUT!

If you love kickboxing this is a must. The instructors are great and creative. I have had this VIDEO for two years and its still my favorite! Even my four year old daughter likes to try it. - posted by Melinda Magness


Fabulous! Fabulous! Fabulous!

I'm hooked! I have always enjoyed Janis Saffells videos however; this one is unique because Guillermo Gomez is in it who has a sexy Latino accent to keep you motivated. My favorite workout by far is kickboxing and this is my favorite VIDEO of all time! I love it so much Ive been doing it 3 times a week. I started without the hand weights and got the courage to add the weights about 1 month later. The best part is it is melting away the fat on my outer thighs, and best of all the fat beneath my butt. The shape of my bootie is finally reappearing. This video is fabulous! - posted by Renee


Kicks my booty!

This is my first Janis tape, and I loved it! It was intense without being overly so, and the moves were so well cued I didn't have any problems keeping up. This is my first kickboxing tape and now I look forward to trying out all of her videos! Excellent recommendation!!! - posted by Ali Renee