"The best new fitness video fast paced and high energy, you'll be lifting and squatting your way to a finer, firmer fanny." (Self Magazine)
"Straight-up workout potent lower body toning." (Shape Magazine).
You too can have finer, firmer buns, thighs and sleek looking arms. Put yourself to the test with this potent full body toner. It's not only for your derriere but maximizes core strength, designed to strengthen and flatten your midsection and provides 60 minutes of pure sweat for both your upper and lower body. This workout is challenging with these unique standing (Part 1) and floor (Part 2) exercises. Ankle weights and dumbbells may be added to increase the intensity of your workout.
LEVEL: All Fitness Levels Inter/Advan
EQUIPMENT: 3-15lb Dumbbells, ankle weights, & mat

TIME:60 mins (two workouts in one video)
Brand New Butt and More Part 1 – 37 mins
Brand New Butt and More Part 2 – 24 mins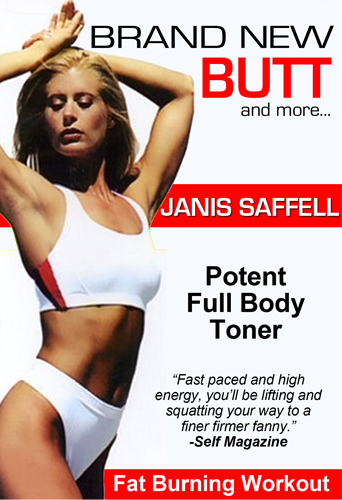 Customer Reviews

Great Toning Video!

I got this video quite some time ago and still find myself coming back to it. I enjoy Janis' workouts. Her bubbly and sunshine-y personality is awesome and what I need to get through a work out. This is a great workout because it tailors to all fitness levels. If one is just starting out, he/she can use 2-3 pound weights, more advanced can use heavier weights OR the ankle weights/or weight belt. I like to do both segments, the standing legs and floor combined workout but a person can one or the other. I really enjoy this workout! :) - posted by TR


calorie burner!

This is an excellent video for toning areas that many other videos seem to spend less time on. There is plenty of cardio to keep your heart rate up, but you will also be toning your arms, shoulders, and back throughout the workout. Janis Saffell is fantastic at cueing, so if remembering the routines is difficult for you, you can trust her to break it down. I'd recommend this one! - posted by Amie


This video will certainly challenge you!

I'm a big fan of Janis Saffell. She's fun and she cues very well. I bought this DVD back in December and I'll admit, it takes some getting used to. It's extremely challenging. It's a lot of deep lunges and squats because those exercises make a deep impact on your buns and thighs. This is not a video to do every day because it is INTENSE. But I've been using it once a week along with Janis' Quick Fix Cardio Kickboxing and it has really made a big difference. If you're looking for a challenge and to REALLY tone up your butt and thighs, this VIDEO is for you. - posted by Maggie Kravat


deadlifts do work IF YOU DO THEM PROPERLY!

I LOVE LOVE LOVE this workout (and her other one Brand New Butt plus Pilates). Deadlifts do work but most people don't do them properly - TIP make sure ALL your weight is in your HEELS when doing the reps. Do the exercises properly and your rear will be well lifted and toned. Janis is a great instructor - cues well and is not annoying to listen to. Can't wait for her next dvd. - posted by AussieGal