Pilates transforms the way your body looks, feels and performs. It improves flexibility, agility and ease of motion. Join Janis Saffell for this traditional mat Pilates workout, designed to work your powerhouse, legs and upper body. Each routine emphasizes core stabilization while you sculpt the arms and legs for a full body workout. Develop proper body alignment and movement execution, focusing on the grace, extension and elegance of each exercise. Increase your core, lower and upper strength, with this fun workout!
LEVEL: All Fitness Levels (Beginner/Intermediate)

TIME: 41 mins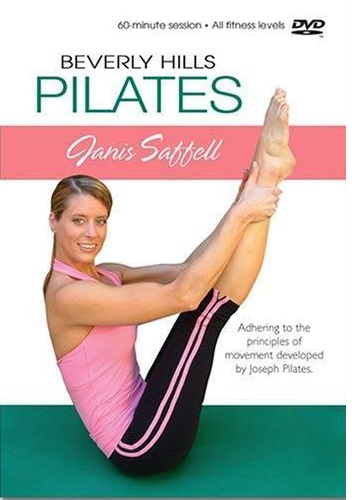 Customer Reviews
A solid Pilates workout, it starts with the basics and smoothly advances into the more challenging routines. The pleasant garden setting and Janis' unusually "Pilates specific" instruction makes this unusually motivating and easy to follow. It has four sections. You'll begin with an introductory series of Pilates basics. Then it's abwork, then legwork and finally a faster-paced full-body sequence. Within each section, you also get "progressions" — subtle variations that increase the exercises' intensity. - posted by Collage Video


A nice complete Pilates practice

If you read any of my other reviews, you will quickly find I'm a big Janis Saffell fan. I was somewhat skeptical that she could transition to doing as good a pilates wokout as her other strength/kickboxing videos. I was pleasantly surprised by this video, she cues well just like her other videos and presents Pilates in a very nice manner, increasing the difficulty of each move with modifications. Most of the exercises are traditional with a few "hybrids" thrown in. Her manner is nice and relaxed with complimentary music. This is just a really good, nicely produced workout which I highly recommend adding to your rotation whether beginner or intermediate! No disappointments here!


Awesome video

I have been teaching Pilates for over a year now and I always welcome the opportunity for new creative ways to implement the practice. Janis does a wonderful job. Her moves are graceful, her cueing is impectable and I love the background music. I practice Pilates three to four times a week and after doing this entire video I woke up the following day and felt a difference. My students were happy when I added some of Janis routines to my class. This video is great for all level since Janis begins each movement at a beginner level and works it up to advance. I love the way she progresses her movements. This video is on top of my list of Pilate videos. - posted by Carmen Huertas


Great for beginners

This is a workout for beginners really. It would be a good tape for beginners because it does add intensity. But, if you're unable to do plank work like I am because of problems in wrists and shoulders, forget it. I love Janis Saffell as she is such an excellent teacher. - posted by Kim