CARDIO. STRENGTH. RELAXATION.
Join Janis Saffell & Scott Cole for this Mind-Body, Kickboxing-Tai Chi, Strength-Stretch Workout! Combining slow and fast set Tai Chi with explosively centered cardio kickboxing is a fat blasting interval workout.This workout is a cardio, strength, and relaxation program that burns fat, tones muscle and increases flexibility while training your body to perform like a martial artist with relaxed power and resiliency.Scott Cole has been named one of the World's Top 5 Fitness Instructors. Please visit
www.JanisSaffell.com
&
www.ScottCole.com
LEVEL: All Fitness Levels
EQUIPMENT: n/a
TIME: 54 mins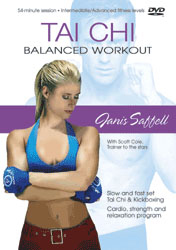 Original video cover
Customer Reviews

Another great video from Janis Saffell

If you have read any of my other reviews you know I am really pleased with Janis Saffell's videos. This is a slower paced, feel good video, which also makes you sweat. The combination of Scott Cole with Janis Saffell is really great. Being new to kickboxing, this really helps to slow down the moves and perfect the technique. Today I have a migraine, but needing to workout, did this video which actually helped me to feel better, stretched out, relaxed, while still getting in a workout. This is a good compliment to other more intense strength and cardio workouts. Janis and Scott are great! - posted by M. Black


Love it!
I really love this video. I've never done tai chi before, so that part was an introduction for me. It is a fun, low-medium impact workout. It is a really nice combination of kick-boxing and tai chi. I enjoy it, and would recommend it, especially as something a little different. - posted by Fran Ameri


Totally Enjoyable!

I do not like to exercise, so a workout needs to have a "fun factor" to keep me motivated. I'm also picky about background and music (I like things brightly lit and good music that I can hear). This video fit the bill on all counts. Scott Cole is quirky & funny, while Janis Saffell is genuine & charming. The set is clean and bright with no distractions and some of the background music was actually identifiable to me. This workout was my first experience with Tai Chi and, while I didn't understand the meaning of all of the motions, it was easy enough to follow and a pleasant way to pass the time. I have been trying for some time now to find kickboxing that I can follow, and the slowed down version presented here is perfect for my klutzy beginner capabilities. I also really enjoyed the balancing activities towards the end. This workout probably wouldn't be strenuous enough for advanced exercisers, but for beginners and low intermediates, I would highly recommend it. - posted by L. Carpenter


Wonderful workout

What makes this workout fun and wonderful,for me, is the slow and fast set of the Tai-Chi and kickboxing routines. I also enjoy the friendly personalities and the chemistry of the two instructors who alternate leading the routines. The Tai-Chi exercises are the slow intervals , led by Scott Cole. He is very helpful in describing on how to make the movements work for you. It's do-able for beginners. Next, the lovely Janis Saffell leads the kickboxing routines, which is the fast set. You should know some kickboxing moves to performs these. When I'm done, I know I've completed a strength, cardio and stretch program all at once! - posted by Mini Marshmallow


Good Beginner/Intermediate Workout

I am a huge Janis fan, and this is another great workout from her - depending on what you're looking for. The fusion of the kickboxing and tai chi is nice. There is a ton of variety here, and you won't get bored. It is also relatively low-impact, so for those looking for something without a lot of jumping and jarring, this would be a good choice. However, unless you are a beginner or possibly intermediate exerciser, you may not get much of a cardio workout. I consider myself to be at the strong intermediate - advanced level, and during some of the kickboxing sections, just when I just started to get my heart rate up, it was over. So, if you're above beginner level and looking for a real cardio workout, this may not be what you want. - posted by Shelley K. Gibertson