If you have 10 Minutes a day you can blast calories with intense cardio routines using traditional Martial Art movements for a total body workout! Quickfix Total Cardio Kick Workout packs a punch in an amazing new workout regime. The first 10-minute workout will use various combinations of cardio boxing moves for focused upper body training. The second 10-minute workout concentrates on cardio and lower body movements with front kicks, and roundhouse kicks which will help tone and redefine the muscles of your legs and lower back. The final 10-minute workout will elevate the body's temperature while targeting the core for an intense fat blasting session.
Tight on time? This VIDEO is broken up into four 10-minute segments so you can do 1, 2, 3, or even all 4 workouts. With the Quickfix Countdown Clock you can be sure to get the most results in the least amount of time.
LEVEL: All Fitness Levels
EQUIPMENT: n/a

TIME: 40 mins

Total Cardio Kick Upper Body – 10 mins
Total Cardio Kick Lower Body – 10 mins
Total Cardio Kick Abs – 10 mins
Total Cardio Kick Total Body – 10 mins (BONUS)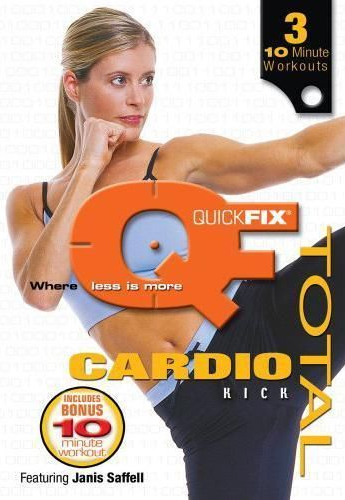 Customer Reviews

Fun and effective
I thought this was a great workout. It really targets three body parts while getting some cardio in. Its not super intense, but it does get the job done, especially when you are short on time. Janis' cueing is clear and easy to follow. I thought it was a fun workout! - posted by Shelley


Wow, what fun!

I read everyone's reviews before I bought this workout, and everyone was right! This is a really fun intro to kickboxing that is non intimidating. Janis has great cueing 'remember to keep your guard up' and the modifications were practical and easy to do (I hate jumping jacks). I really enjoyed the kicking combos and loved the standing ab work (seems like that is hard to find). The outfits were a bit funny and in the bonus workout the music was really loud, but other than that, no complaints. This would be good for a light day or a day where you don't want to use weights or be dancy. So much fun! - posted by Emma


Excellent!

This is an awesome cardio workout. Each of the four segments focuses on a different part of the body: arms, legs, core, then everything in the bonus. Cueing is great, Janis does not have any kind of overbearing personality traits (this is a good thing). I hold 1-lb weights for an even better workout. Never too complicated, never too many reps on one set of moves. Warm-up and cool-down are basically ten seconds in each segment, which is fine since I go through them all at once and cool down on my own. The token modifier woman does knee lifts instead of kicks and steps instead of jumping jacks. - posted by Jo


Fantastic Work Out

I have been using this work out for over two years and still keep it in my rotation. Janis is an awesome instructor and her cueing is great. I love the Bonus work out at the end. I do that one first and then work my way back. I sometimes throw this work out in when I feel I did not get a great work out with another exercise DVD or when I feel I can do more. I love that I can do one or two or all of them if I want to! This is a great work out for when one is pressed for time, needs a light day, or when one feels like he/she can do a little more after doing a workout from another exercise VIDEO. A definite keeper! - posted by KH


GREAT workout!

From the first time I tried this workout, I have LOVED it. It is easy to learn, it is fun, the instructor is great, you really get a great workout, and time flies! The beauty of this program is that it is broken into 4 10 min segments. So, you do what you can in the time you have and you'll get a great workout whether it's 10 min or 40 min! Bonus to this program is no matter what program I choose to do out of the 4, I really feel it in my abs the next day. Highly recommend this one... it's my favorite right now and I'm hard to please! - posted by CeH


Get this one, 30 minutes, and highly effective.

I love this video, it is just what I was looking for, 30 minutes, four 10 minute segments, each one is highly effective, hits the spot, covers upper,lower and mid section. It is well cued, and it works, I have used collage videos for over ten years, I own dozens of them, and this one is great, it covers your entire body in just 30 minutes, and there is a bonus 10 minutes, for days when you have more time. I workout at 5 am each day, I appreciate the time element of this workout and it gets the body working, I highly recommend this video, it will not disappoint you. It made me sweat and it is easy to follow, and if you want to focus on just one section, bam, do it, or go for the burn and do it all. I feel fantastic after I do it, and look forward to use it daily, I can see doubling up on it on weekends when I have more time. Get it, do it, get strong, and burn fat, build and tone your muscles.I never write reviews, had to, it is that good. - posted by viv