It's non-stop intensity — from the opening jump-rope warm-up right through the stamina-building "cardio/sculpt" segment. Janis Saffell's upbeat personality and just-having-fun classmates are sure to keep you on pace and energized. The aerobics feature a more-choreographed-than-most medley of boxing and kickboxing routines (e.g. "chassé forward, knee, knee, knee," "half-turn back kick"). The jump rope section ranges from simple hops to more advanced ski hops, straddles and cross-overs. Then it's "cardio sculpting" — up-tempo versions of squats, knee lifts and leg extensions blended with upper-body punches and jabs. Ends with a well-deserved tai chi cooldown. 1 to 2 lb. dumbbells are optional.
LEVEL: Inter/Advan
EQUIPMENT: 1lb-2lb dumbbells or gloves are optional. plus an AirRope or jump rope

TIME: 90 mins (3 workouts in one video)
Kickbox Express Warm-up & Cardio – 53 mins
Kickbox Express Conditioning & Cooldown – 25 mins
Kickbox Express Jump Rope – 14 mins (Bonus)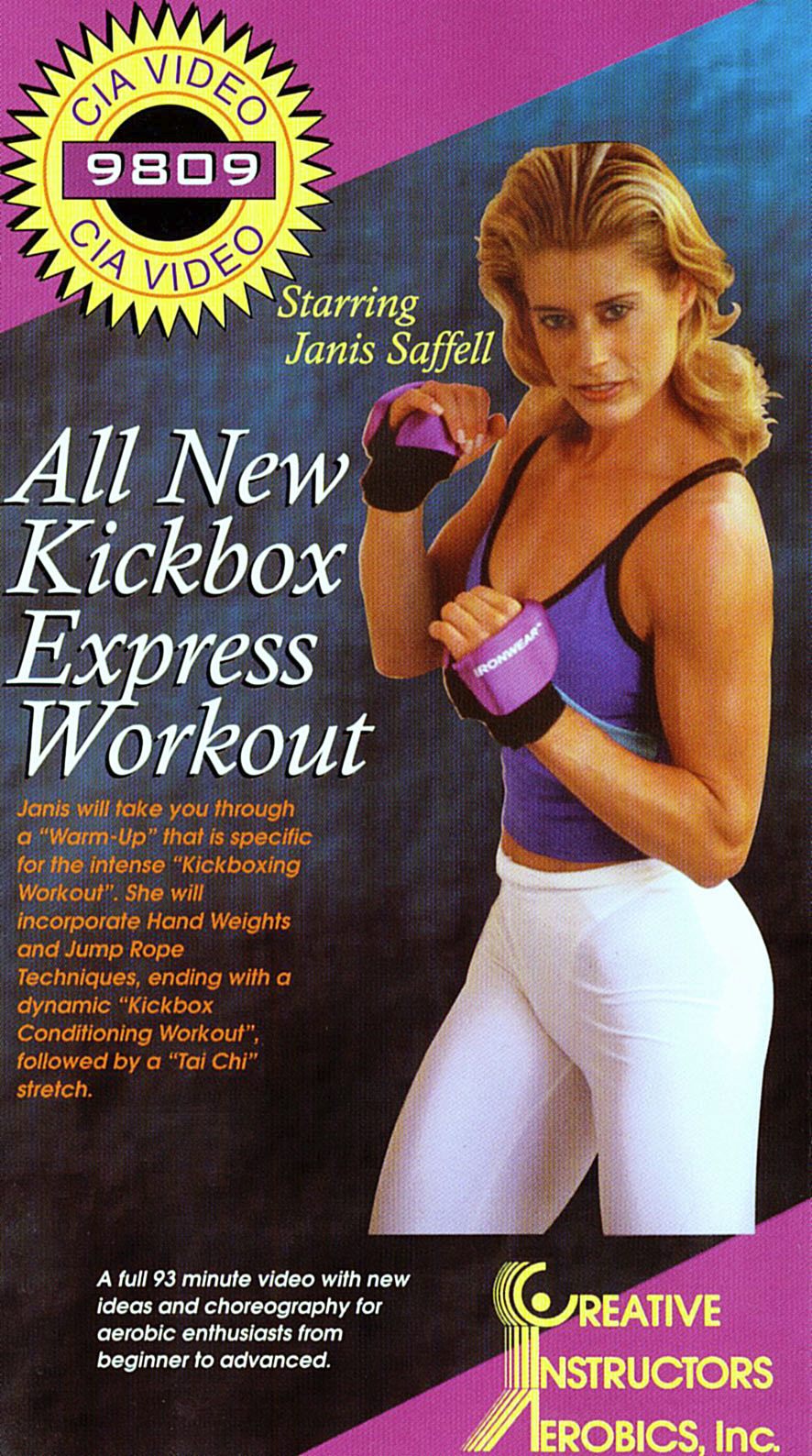 Original video cover
Customer Reviews

My favorite kickboxing workout

It's definitely a tough workout with some very complex moves, but that is what I like about it. It's challenging and it's never boring. And talk about boosting your fitness level! WOW! - posted by Allison


Awesome Video!

This is an excellent kickbox video. It will take me a few more times to get the moves down, and I'm not even going to attempt the jump rope segment until I can make it all the way through the rest (I just forward through it to the kickbox conditioning). For those of you who don't have the room to use a jump rope in your house or apt, you can still do the moves without the jump rope to get that workout segment in. I love all of the different combinations and look forward to the time I can do the video all the way through. You will sweat, you will get fit, and you will feel great! - posted by Jill


Great Long Workout

I enjoyed this video because of the complex moves and it's ability to really get my tired. I skip the jump rope section because I can't do it in my apt, however, even without it, it's a pretty good workout. The sequences are a little tricky at first, but that gives you something to work on. Also, the workout really does energize me. So, I heartily recommend this video to anyone looking for a more advanced workout. - posted by Debbie


Love it, great creative, FUN way to kickbox

This is a great tape. First, Janis is good at cueing and showing you the steps before she does it. This tape is for the Intermediate-Advanced kickboxing exerciser. She puts together fun, creative choreography that's easy while punching and kicking. It's the best kickbox tape i have and my intensity stays up all the time. It is challenging, fun and a real boredom buster. - posted by Ang


Advanced Kickboxing Workout

This workout is definitely for the advanced kickboxer. It's a great, high intensity workout that is sure to burn fat. I've only done the routine once and struggled a bit with the faster, more complex sequences, but look forward to trying it again. I particularly liked the 15-minute jump rope routine - a heart pumper! - posted by Jolie