"The best new fitness video — fast paced and high energy,

you'll be lifting and squatting your way to a finer firmer fanny." Self Magazine

Get It Now: Your Best Butt Ever! Join Janis for this ultimate butt-kicking sculpt workout, designed to: Firm and tone your buns, thighs and arms. Janis' use of dumbbells and Dyna-Bands (or tubing) will put you to the test with added intensity and challenge for a serious upper and lower-body workout that emphasizes elegant arms and sleek, beautiful legs.
LEVEL: All Levels
EQUIPMENT: Dumbbells 3lb-15lbs & Pilates Flat Band or Tubing (*Pilates band is not necessary to have a successful workout)
TIME: 27 mins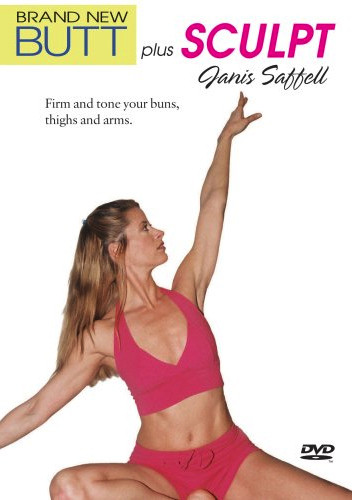 Customer Reviews

I love this workout!

I bought this workout video a few years back and I use it all the time!! After only using it twice to three times a wk a lost a jean size after only 2wks!! if your looking to slim down while you tone up your legs, butt and arms this is the dvd for you!!!! This is an amazing workout that is low-impact with great results!! It doesn't completely tire you out so that you can continue to do other exercises after finishing the video, but just doing the video alone produces amazing results!! I love it, and I'm sure that anyone who purchases it with the intent of slimming down their arms, legs and butt will love it too!!! - posted by Carly Young

New Butt, New Video
Very well done, liked it a lot. Didn't think you could really target one area but Saffell nailed it! I have had people tell me my rear looks good (that has never happened before this VIDEO). Can't believe that a little work goes a long way. Great Video. - posted by Fitness Freak