Welcome to Janis Saffell's 10 min Buns Workout Video!
You can tone those buns in only 10 minutes a day, or even every other day. These exercises are effective and they work. Beginning with a short warm-up, ESPN personality Janis Saffell demonstrates unique exercises to strengthen, tone and sculpt your thighs & buns. The intense workout is challenging, but brief, and should produce results with continued use. Saffell performs side kicks and back sweeps, using a chair for balance. She moves from kicks to leg bends and squats and finishes with a brief cool-down segment.
LEVEL: All Levels
EQUIPMENT: Chair (*you can add ankle weights to increase intensity)
TIME: 10 mins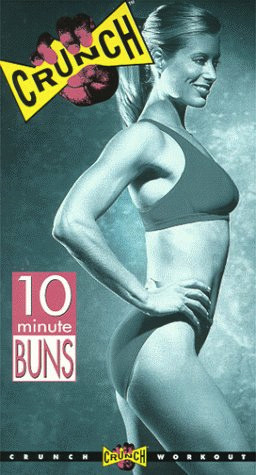 Customer Reviews

This is a no excuse workout
Now you have no excuse! You know you have 10 minutes to get this workout in your daily routine. It's a nice variety of squats and you can always add dumbbells and ankle weights for more intensity. The background exercisers are in super shape and it's a really nice bright colorful set with wooden floors. One of the models in the background looks like a dark haired, Pam Cauthen. She is wearing green and is on the left of the tv screen. The music is upbeat and jazzy. This is a no excuse workout. If you got 10 minutes, you can do it! I like it how Janis adds some slow side kicks in this workout. You know she loves Kickboxing! She is gorgeous and super friendly and smiling all the time. - posted by Mandy Lee

It really works!
I've been using this video on and off for over 10 years. It's one of the very best ever! Janis Saffell makes this routine fun and the woman are gorgeous! Began using this after I thought my entire body was really in shape, this was before I painted my porch floor and was on my hands and knees for hours. The next day I could feel every muscle within my gluteus maximus. My girlfriend noticed a difference after only 3 weeks of use! Excellent series and they sure don't make them like this anymore...sad.- posted by Mike Broadbent